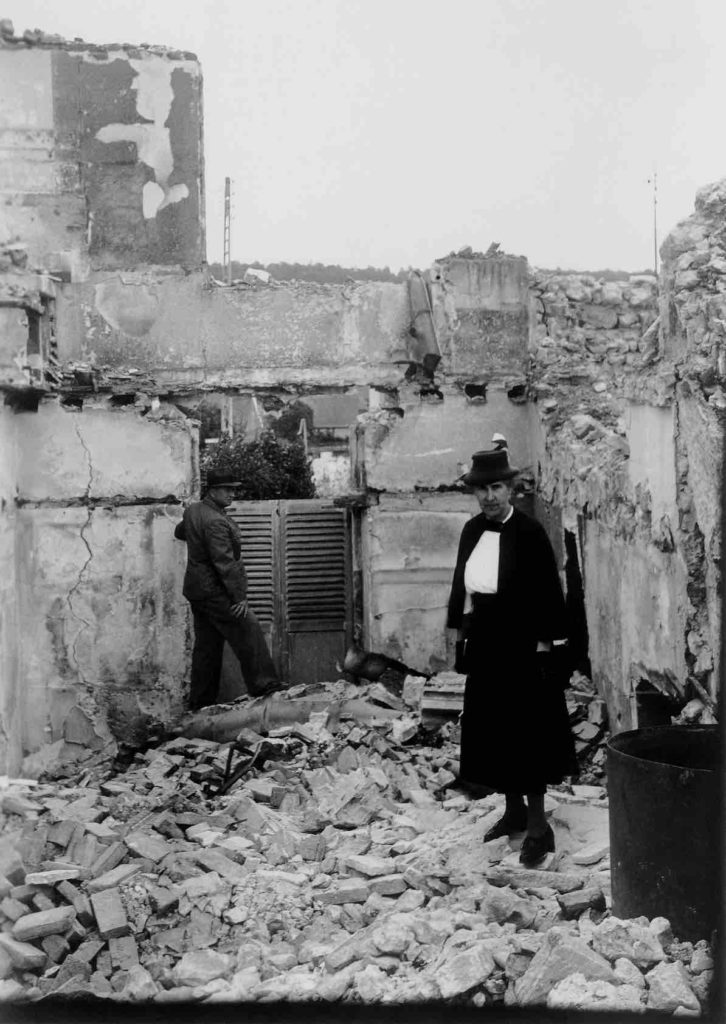 Image & Peace proudly presents Reimpressions by Ana Catarina Pinho, the third artwork commissioned by and displayed on imageandpeace.com.
Reimpressions, a photography and video installation, is, in the artist's words, "the first chapter of a wider investigation on photographic practices, memory, representation and discourse. This ongoing visual essay explores vernacular photographies and its potential towards reframing pre-established categories, knowledge regimes and discursive reconstructions."
During war, peace can be depicted by showing everyday activities with which the people depicted maintain a semblance of normality – and dignity – and go about their usual business. Another approach to peace during war is by visually anticipating peace.
We would like to understand Reimpressions as anticipation of peace and reconstruction, as a visual-discursive redesignation of archival images from war to peace. Meanings assigned to interpretations of images are always context dependent, reflecting the political, social and cultural configurations within which such designations of meaning unfold. The visual archive enables us to look at historic images from a completely new perspective, allowing us to explore how assigned meaning of an image has evolved and will continue to do so, creating a space for social change.
© Ana Catarina Pinho, Reimpressions, 2020-ongoing. 3 channel video installation, b&w, mute, loop.
At the same time, we would like to emphasize the artwork's narrative openness – the absence of spoken or written narrative – and its susceptibility to diverse designations of meaning, of which "peace" is but one. Such a plurality of meanings helps us access and appreciate the multilayeredness of social reality, its contradictions and fundamental uncertainties.
Peace is a permanent construction site (Baustelle) where individual building blocks are assembled so as to create something that is bigger, more meaningful and more important than its individual ingredients. Without these individual ingredients, however, the building could not be created. This concerns both materiality and individual behavioral patterns such as dressing up in front on a ruined building, thus opposing the logic and dynamics of war and destruction. Such minute gestures are acts of resistance and demonstrations of agency.
Ana Catarina Pinho is a visual artist and researcher in the field of photography, visual culture, and documentary. She holds degrees in Art and Communication and in Fine Arts (Painting) and an MA in Documentary Photography and Cinema.
She is currently a research fellow for the Portuguese Foundation for Science and Technology, developing a PhD at the European Centre for Documentary Research at the University of South Wales (UK) on the dynamics among visual archives, historical narrative and collective memory, through archival appropriation and performative practices in contemporary art, focusing on the appropriation of visual documents from the Portuguese Empire.
Ana Catarina's artistic work combines documentary and fictional strategies, often examining the way reality is perceived in regard to its representation and meaning construction.
Ana Catarina is the founding director of ARCHIVO, an independent research platform that focuses on photography and visual culture with which Image & Peace has established a partnership.
More information about the artist is available on her personal webpage:
https://www.anacatarinapinho.com
Visit 'Reimpressions' by Ana Catarina Pinho
Visit the other artworks displayed on imageandpeace.com here:
'Between violence and peace' by Shihab Chowdhury
'Sarajevo Roses and Clouds of June' by Sheung Yiu and Samra Šabanović
---