We are happy to announce publication of an article titled "Active Looking: Images in Peace Mediation" in the peer-reviewed journal Peacebuilding.
Peacebuilding is a multidisciplinary journal open to articles on making peace in contemporary and historical cases of conflict-affected societies.
While images become more and more present as important (f)actors in international politics including in conflict-affected societies, peace mediation, until now, widely ignores them thus also neglecting their potential contributions to peace processes. In the article, we ask peacebuilding practitioners to be open towards the inclusion of images in their work, to believe in the peace potentialities of images, and to use images' inherent ambiguities to produce more complex narratives.
We explore how narrative-based mediation can be improved by including visual images. We refer to such inclusion as active looking, aiming at a visual-discursive re-complexification of narratives. We argue that active looking provides visual peace research with an applied dimension beyond conceptual and theoretical considerations thus increasing its applicability to conflict transformation processes.
The article explores the relevance of visual peace research beyond theories and concepts by translating theoretical debates into more practical suggestions thus starting discussion among academic (visual) peace researchers and mediation practitioners.
Our article, thus, serves as a starting point, an open-ended contribution to an evolving repertoire of thinking about and conducting peace mediation through images.
The open-access OnlineFirst version of the article can be accessed here.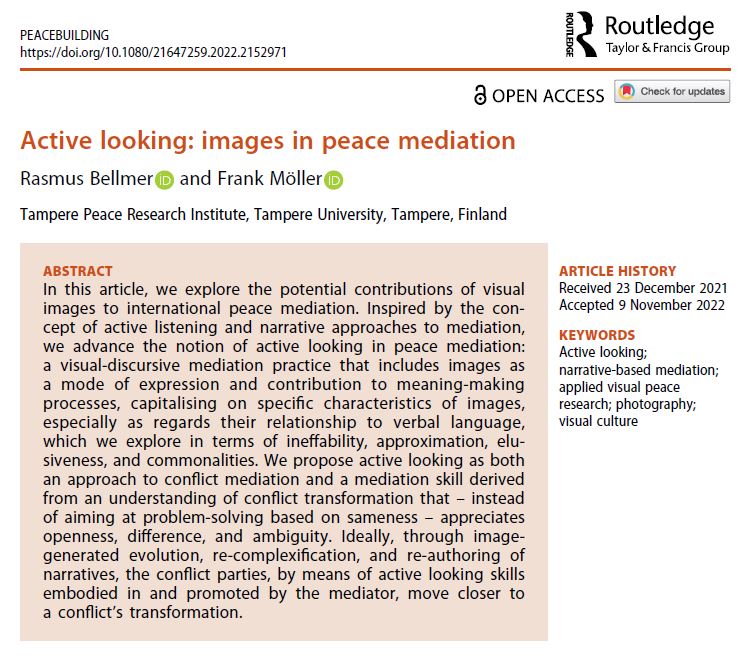 ---