On September 15 and 16, imageandpeace participated in the 13th edition of the conference on Popular Culture and World Politics – New (A)venues – in Magdeburg, Germany.
The conference explored, among other things, photographs, films, videogames, fashion and comics as sites of power but also as vehicles for emancipation, change and resistance, arguing that 'popular culture is a powerful tool of contestation and emancipation.'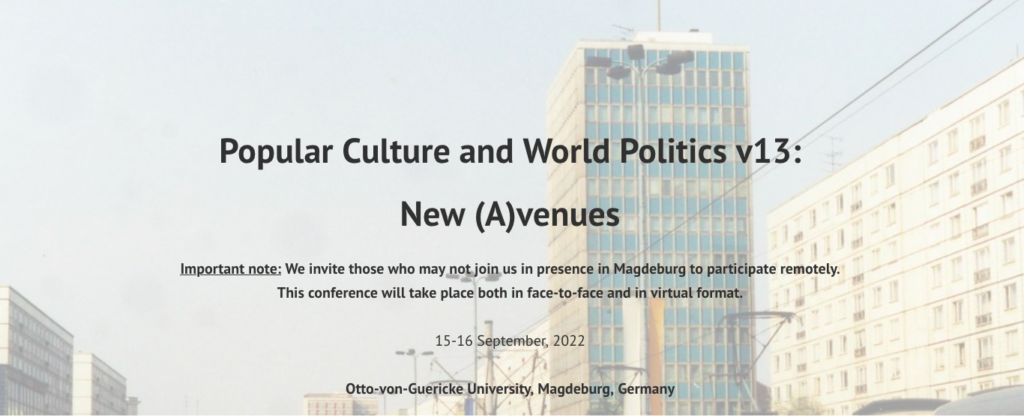 We presented our paper, titled 'Towards a Typology of Peace Images,' in the panel Diplomacy and Peace. In the paper, we introduced the works of art that we commissioned and published on this website since 2020 – works of art by Sheung Yiu and Samra Šabanonić, Shihab Chowdhury, Ana Caterina Pinho, and, most recently, Sebastian Schultz.
As we wrote in the abstract:
The return of war to Europe requires us to rethink the connection between popular culture and war but even more so the link between popular culture and peace. This is what we have been doing in our research project 'Peace Videography', funded by the Kone foundation, in which we ask: How can peace be visualized and how can visual images contribute to peace? In other words: How do we build peace with images? To engage with these questions, we invited selected visual artists to create works of art on the subject of peace. We insisted on only two things: first, we were neither interested in a standard photojournalistic approach depicting peace (or the need for peace) negatively, i.e., by showing its absence, nor in landscapes to represent peace of mind. Instead, the artists' peace images had to include a social, human component. Otherwise, what the artists meant by peace and how they wished to represent it was up to them, reflecting their cultural and political socialization and artistic experience and ambition. Based on the submitted artworks and other popular artistic images we develop a tentative typology of peace images and critically explore how images may establish new ways of seeing peace and, ultimately, new politics of peace. We, therefore, suggest that images do not merely visualize pre-existing notions of peace; rather, images can be constitutive of peace.
In the presentation, we discussed Sheung and Samra's work in light of the established critique of photojournalistic representation, Shihab's work with regard to the temporalities of war and peace, Ana Catarina's work in connection with the discursive reconstruction of archival material, and Sebastian's work with reference to the fragility of (everyday) peace.
---